$5.2 Billion Industry
Posted on December 26, 2019 by BradMcEwen
This year was a very big year for the complementary medicine industry and profession.
Most Australians (73%) have used at least one form of complementary medicine in the last year with 33% taking a supplement on a daily basis and 13% taking a supplement 1-2 times a week in 2019. In comparison, the United States (49%) and South Korea (39%) take a supplement on a daily basis.
One third of Australians using complementary medicines do so to manage the symptoms of a chronic disease. Approximately 50% of all Australians have a chronic disease.
The Australian supplement industry is currently valued at $5.2 Billion in sales annually and continues to grow. See below graph of the breakdown of sales of vitamin and dietary supplements, sports nutrition, herbal and traditional products (grouped together), and weight management. As a note, in 2015-2016, Australian's spent $170 billion on health.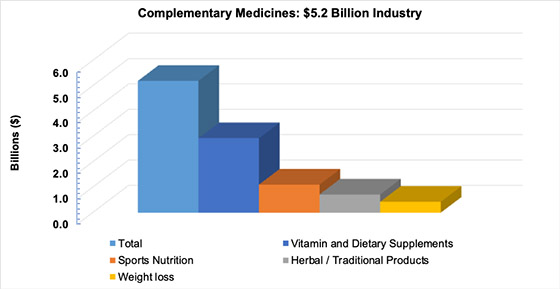 In comparison with the US industry, Vitamin supplements are $110 Billion, Weight management and wellbeing $17.7 Billion, and Sports Nutrition $21.6 Billion.
Complementary Medicines Group (CMG) has numerous customers already successfully exporting products to the US (and worldwide) and the number of customer exporting products are already growing for 2020.
Products by Health Category
The below graph shows the percentage share of products by category. By looking at this graph, you can see the 4 leading categories being Joint and Bone, Heart Health, Digestive Health, and Women's Health. This gives you an idea where people are focussing on their health (prevention and management). General health is a broad area that covers numerous health areas.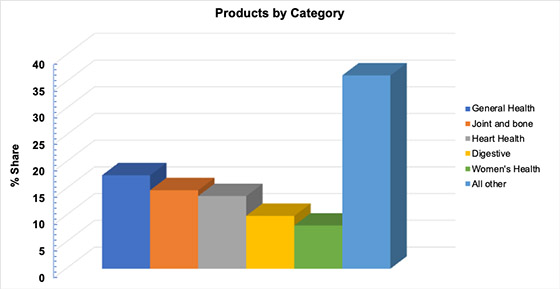 Dosage forms available from CMG
CMG provide the opportunity for numerous dosage forms for your products. Please find the available dosage forms below:
Film-coated tablets
Chewable tablets
Capsules (size 0, 00, 00EL, 000)
Vegetable capsules (size 0, 00, 00EL, 000)
Soft capsules – e.g. Omega-3 fish oil, Ubiquinol, Flaxseed oil
Enteric coated (tablet, capsule)
Modified release (tablet)
Multi-layer tablet
Powders in bottle/jar – herbal and nutritional (AUSTL); foods (e.g. greens)
Powders in sachets – herbal and nutritional (AUSTL); foods (e.g. greens)
Liquids bottles – e.g. nutritional (AUSTL), herbal (AUSTL)
Liquids sprays – e.g. nutritional (AUSTL), herbal (AUSTL)
Liquids in dripolator bottles – e.g. nutritional, herbal (AUSTL)
Mouthwash
Creams, Ointments (AUSTL available)
Blister packs for your products are also available.
Vegan friendly products are available, along with products that do not contain gluten, wheat, lactose, dairy, nuts, peanuts, sesame, egg, crustacea, and shellfish, among others.
New Product Development 2020 and beyond
Stayed tuned for new product development in 2020 and beyond 🙂
Contact: brad@cmgrouponline.com.au
Category: HealthTags: Anti-inflammatory, Antioxidant, Anxiety, Cardiometabolic syndrome, Cardiovascular disease, CMG, Complementary Medicine, Complementary Medicines Group, Dietary Supplements, Health, Healthy, Healthy lifestyle, Herbal Medicine, Herbs, Manufacturing, Mental health, Minerals, New Product Development, NPD, Nutrition, Nutritional Medicine, Products, Research, Sports Nutrition, Supplement, Supplements, Vitamins